So you've chosen a rally to enter! All you have to do now is make sure that you, your driver, and your car are allowed to enter. The easiest way to find out is to contact the rally organizers and ask them to send you a set of Supplementary Regulations; they may also have these on the rally website for you to download. You should read this document cover to cover.
In some countries you may be required to complete a training program in order to get your rally license. Your rally organizer should be able to help you with this.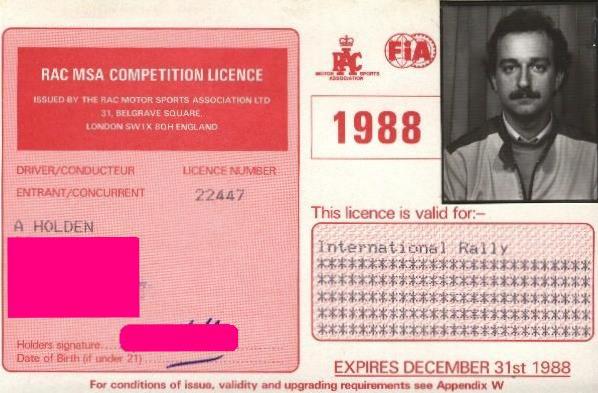 When you have established that both crew members and the car are eligible, send in your entry as soon as possible along with the payment and anything else that the organizers require. You can often join the motor club or enroll in the championship via the entry form.
As soon as you receive a confirmation that your entry has been accepted, you should begin planning for the rally. The driver should be tasked with organizing the car, service vehicle, spare parts, tires, and tools. The co driver should make arrangements for the crew members (hotels, travel schedules) and put together a pack of information for each crew member. If maps are needed, the co driver generally provides these for both the rally car and the service vehicle.
It's a good idea to have a pre-rally meeting with every crew member present sometime before the start of the event. You can then clarify the roles of all crew members, and resolve any problems. This is also a good time to show the service crew where parts and tools are stored, and perhaps even practice basic service procedures to familiarize everyone with the car. I like to appoint one person to be "service chief" to avoid confusion, but it's also important to make every crew member feel useful, so a list of tasks with names against each item is a good idea. Even something that seems trivial (such as handing the drivers a bottle of water upon arrival into service) can become a problem if it is forgotten. Rallying is a team sport, so try to involve every crew member, and they may actually want to help on your second rally!
So now it's the big day! You and the rest of the crew have traveled to the start venue (Rally HQ). All that remains to be done is to follow the schedule that you should have received from the organizers. Typically this will outline when and where you need to "register", put the car through "scrutineering", and instructions on making / checking pace notes. If you did your homework, registration should be simple, and you will be provided with the Road Book, Pace Note Book (if provided) and other items such as event stickers (to be placed as shown in the Supplementary Regulations).
If the car was prepared well, the car should pass through scrutineering with perhaps some minor corrections needed. If possible, let your crew make corrections while you and your driver head out to begin pace note writing / checking.
One final pre rally task that should be done is to calibrate the rally trip meter. For an explanation of how to do this on Terratrip units, please click here: